---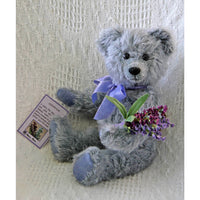 SPECIAL LAST NUMBER OF THE EDITION!
Lavender Blue: 35cm/ 14"  This special bears' stuffing is mixed with organic lavender grown on our very own Oakdale farm to give a  gentle perfume, with the added bonus that the lavender will keep the insects away and make your room smell lovely.
To keep her smelling great, you can even add a few drops of oil. 
This exclusive bear is made in short blue distressed mohair and is wearing a lavender coloured ribbon.
She has pure silk blue paw pads and carries Robin Rive's distinctive signature on the right paw pad.
This  gorgeous gal is the very last number of her edition so this is your last chance to get her... Be Quick... !
LE 100 / 100